Fritz Sessions 1


The Future of Our Climate

The first Fritz Session, titled The Future of Our Climate, took place on 9th May 2019 in Berlin. It featured a talk by Prof. Johan Rockström, a new director at the Potsdam Institute for Climate Impact Research, presenting the current state of climate science and discussing his agenda for managing the future of our climate.

After the talk and an audience discussion, the participants attended a reception with snacks and drinks, during which they had the opportunity to discuss steps towards sustainable behaviour with Dr. Erin Redman and Aaron Redman from the Leuphana University Lüneburg. We also exhibited new works by the Berlin-based conceptual artist Agata Engelman, grappling with the climate crisis from a different perspective.

The Fritz Sessions are a series of events at the Fritz Haber Institute of the Max Planck Society, organised by a group of PhD students. For these events, which act as institute colloquium, we invite leading experts to discuss topics that will shape the coming decades. These events are open to the public and aimed at a scientifically literate audience, but don't require expert knowledge on their topics.

Join our newsletter to be the first to learn about the next Fritz Session.
You should also follow us on Twitter.
Talk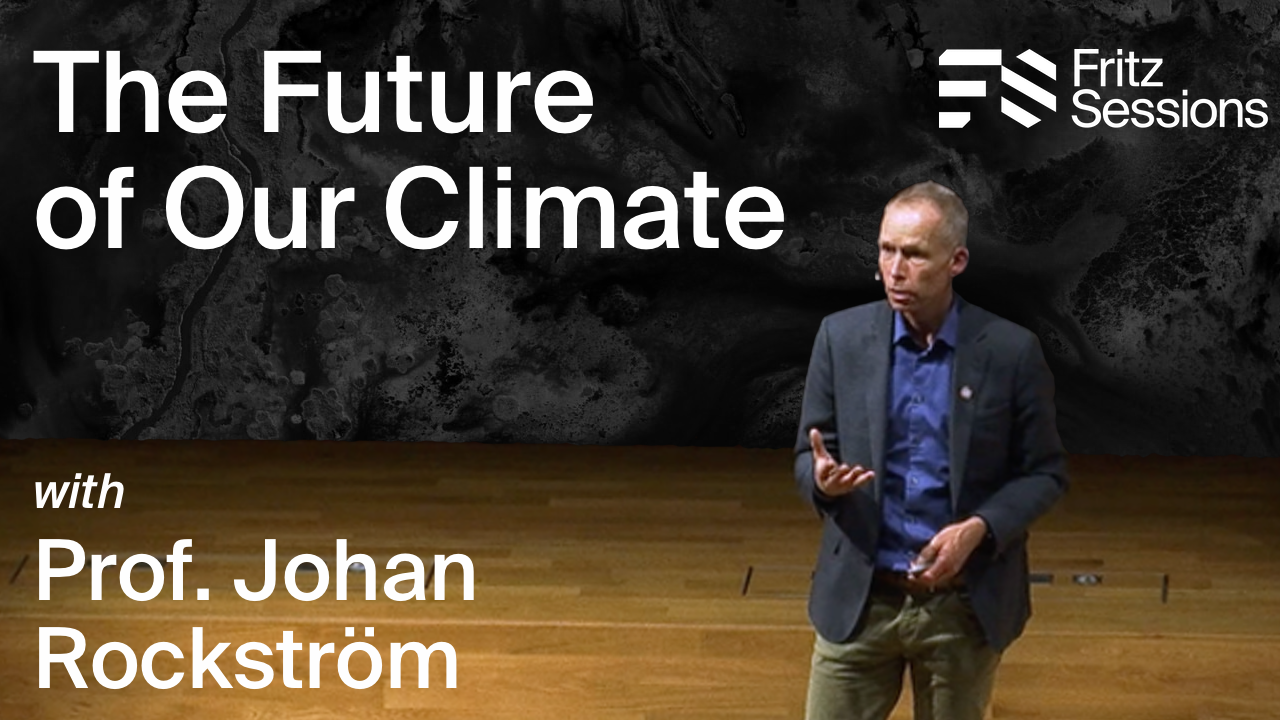 Watch the talk on YouTube.
Abstract
Climate science is clear that to have a chance of keeping global warming "well below 2°C and aiming at 1.5°C", in line with the Paris Climate Agreement, will require nothing less than a world transformation to global sustainability.
Entailing,
decarbonising the world energy system by 2050/60,
transforming the world food system from carbon source to carbon sink,
investing in negative emission technologies, and
maintaining carbon sinks in the natural ecosystems on land and in the ocean.
The implications of this Earth trajectory agenda, is that the final battle ground whether we will be able to stay below 2°C [and have a good chance of avoiding a self-amplifying "HotHouse Earth" trajectory], is shifting away from decarbonising the world's energy system to safeguarding the resilience of the Earth system. In this presentation I share the Earth system science based agenda for global sustainability, integrating the research frameworks on planetary boundaries and on global commons, which together evolve into an agenda on planetary stewardship.
About the speaker
Johan Rockström is Director of the Potsdam Institute for Climate Impact Research and Professor at the Institute of Earth and Environmental Science at Potsdam University.
Rockström is an internationally recognised scientist on global sustainability issues, where he led the development of the new Planetary Boundaries framework for human development in the current era of rapid global change. He is a leading scientist on global water resources, with about 25 years of experience from applied water research in tropical regions, and more than 100 research publications in fields ranging from applied land and water management to global sustainability.
Aside from his research helping to guide policy, Rockström consults several governments and business networks. He also acts as an advisor for sustainable development issues at noteworthy international meetings, such as the World Economic Forum, the United Nations Sustainable Development Solutions Network (SDSN) and the United Nations Framework Convention on Climate Change Conferences (UNFCCC). Supplementary, he chairs the advisory board for the EAT Foundation and the Earth League.
Exhibition
About the artist
Agata Engelman is a Polish-born conceptual artist, painter and researcher in contemporary philosophy and cultural studies. In her work, she explores the human-nature relationship and politics of nature conservation.
Obscene Carbon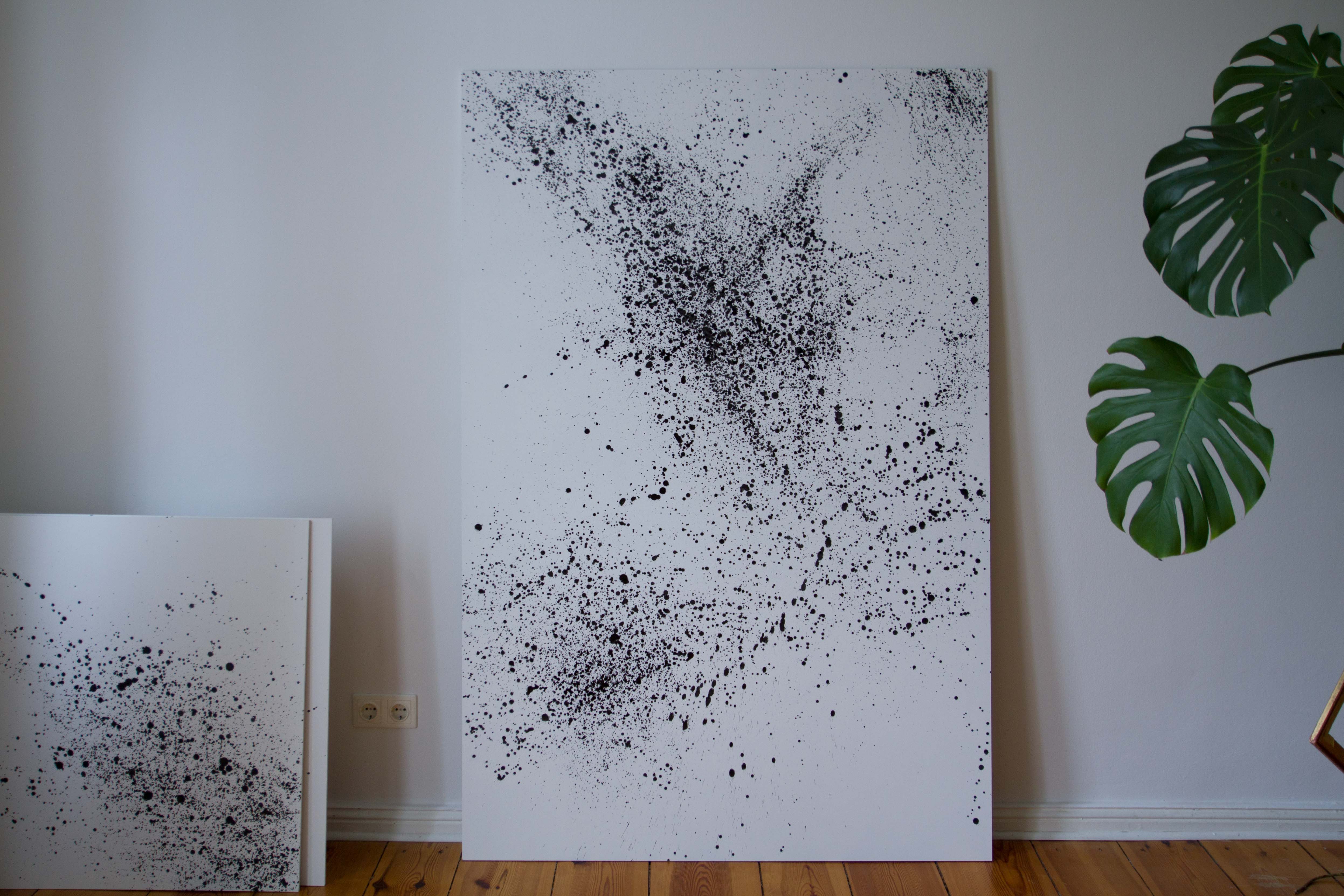 Obscene Carbon is Engelman's new series of abstract paintings made using carbon powder. Carbon is a ubiquitous element, crucial to all forms of life. But with carbon dioxide, hard coal and lignite, and carbon sinks being some of the central notions in the debate on anthropogenic climate change, it is loaded with a number of contradicting meanings. It is both creation and death, powerful source of energy and progress, destruction, pollution and disease, trace of life that does not exist any more and substance to build new life. These large monochrome abstractions each have a title speculating on the origins and paths of the carbon particles before they became part of the painting.
Information Fair
During the reception after the talk, the guests had the opportunity to discuss their personal climate footprint, and steps that can personally be taken towards sustainable behaviour, with two experts from the Leuphana University Lüneburg.
Experts
Dr. Erin Redman is a research associate at Leuphana University Luneburg where she coordinates the implementation and research for the Sustainability Education: Continuing Professional Development for School Teachers and Faculty project. After having lead a multi-million USD effort to develop and run Sustainability Teachers' Academies around the United States, Dr. Redman has joined with a team of international experts to translate and adapt the successful model to international contexts (three additional countries so far). She has worked with teachers and faculty in professional development from Ghana, Columbia, Mexico and Ireland to name a few and is passionate about enabling teachers to be leaders in delivering effective, competency based sustainability education right now to the next generation.
Aaron Redman is a doctoral research associate at Leuphana University of Luneburg where he is one of two post-docs on the Educating Future Change Agents project. This project seeks to find generalisable insights through a set of interlocking comparative case studies in the USA and Germany. Aaron is simultaneously finishing his PhD at Arizona State University's School of Sustainability where his research is focused on better framing competency based education and developing effective assessment tools for its attainment. Prior to this, Aaron had worked for the National University of Mexico and on community scale development projects in El Salvador. This background has sparked a strong interest in the Sustainable Development Goals and leading to an exploratory project with The Dell Foundation to explore measuring the contributions that ICT businesses could be making to the global sustainability agenda.
Team
The Fritz Sessions are being organized by a group of PhD students working at the Fritz Haber Institute of the Max Planck Society in Berlin, Dahlem.
Marcel Langer (TH)
Florian Knoop (TH)
Riko Kießling (PC)
Lorenz Frevel (AC)
Christopher Winta (PC)
Maximilian Doppelbauer (MP)
Andreas Leitherer (TH)
Leonard Gura (CP)
Mallikarjun Karra (MP)
The Fritz Sessions identity and graphics were designed by Lawrence Stewart.
Music and sound design for the video was done by kardenkan.